TICKETS AND FAQ
Full House
The 2023 edition of the International Mobile Film Festival took place during the weekend of April 28 thru April 30, 2023. Turnout to this edition was extraordinary. Stay tuned for stories and more on our News Page.
Submissions open June 19 for the 13th Edition of the IMFF. Please be aware that current rules and criteria for the 2024 IMFF may change.
Stay tuned for 2024 tickets!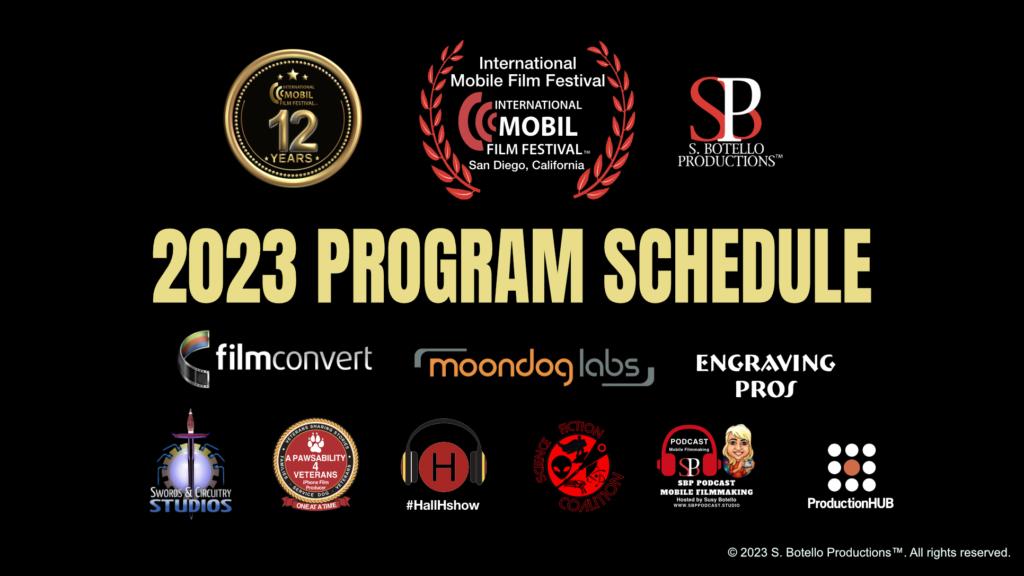 You can also access a very simple schedule here with just the basics and times.
The 12th annual International Mobile Film Festival celebrates the creativity and art of filmmaking with smartphone cameras. Founded in 2009, IMFF is the world's first live event film festival dedicated to mobile phone movie making! Get inspired by amazing films shot with smartphones and make your own movie.
Immerse yourself in a world of creative art, watch award-winning films, network with the filmmakers, and create a masterpiece of your own! Unleash your inner director and join us at IMFF in our beautiful San Diego venue by the bay. Saturday and Sunday, April 29 & 30.
All films shot with smartphone cameras! Feature length films, short films, smartphone photo contest, Q&A Panels and sessions, Make Your Dream Movie: Mobile Film Workshop, Red Carpet Extravaganza with Science Fiction Coalition led by Dude Vader starring attending filmmakers, awards ceremony and more!
SPACE IS LIMITED. GET TICKETS NOW.
SELECT YOUR FLAVOR!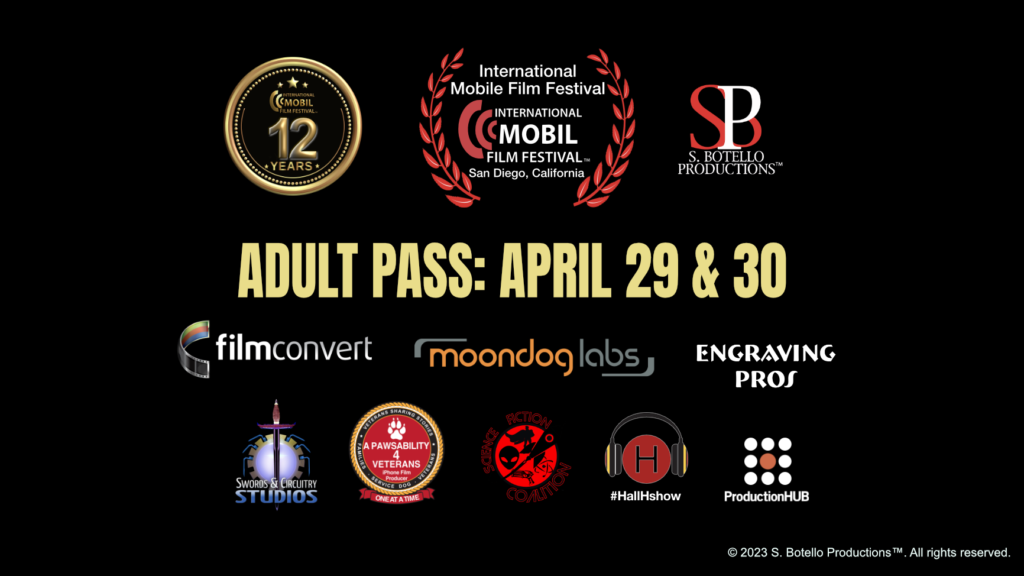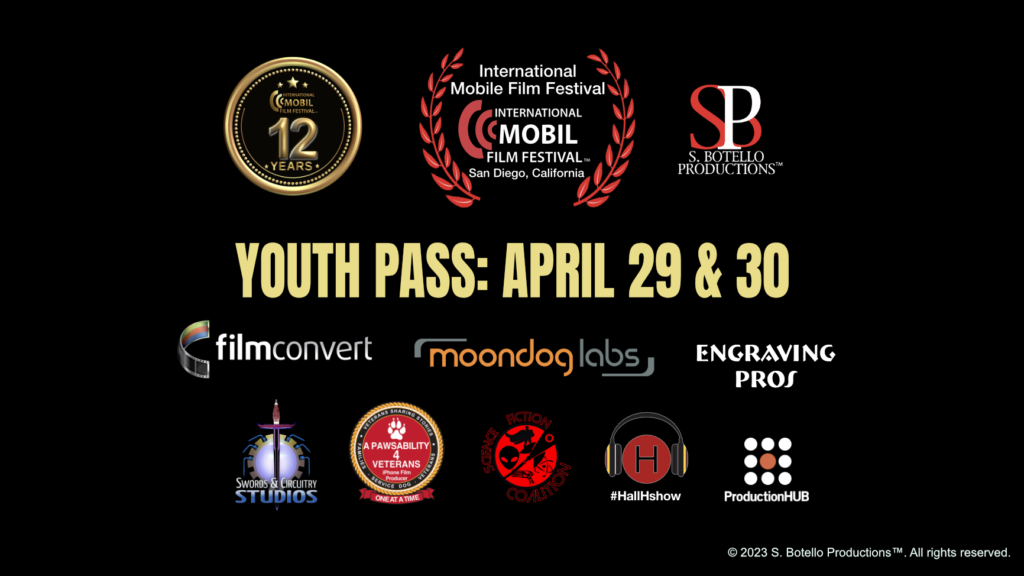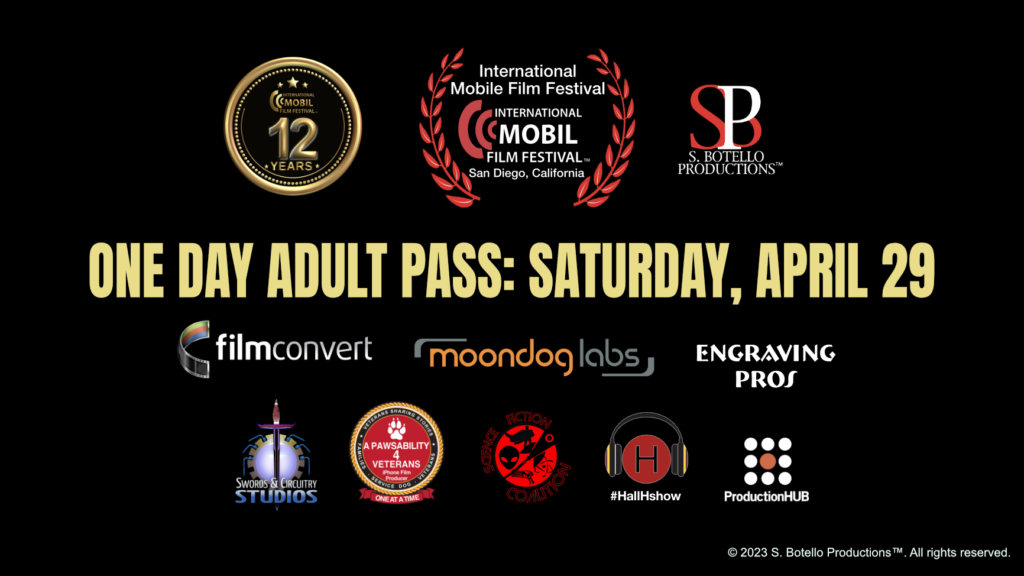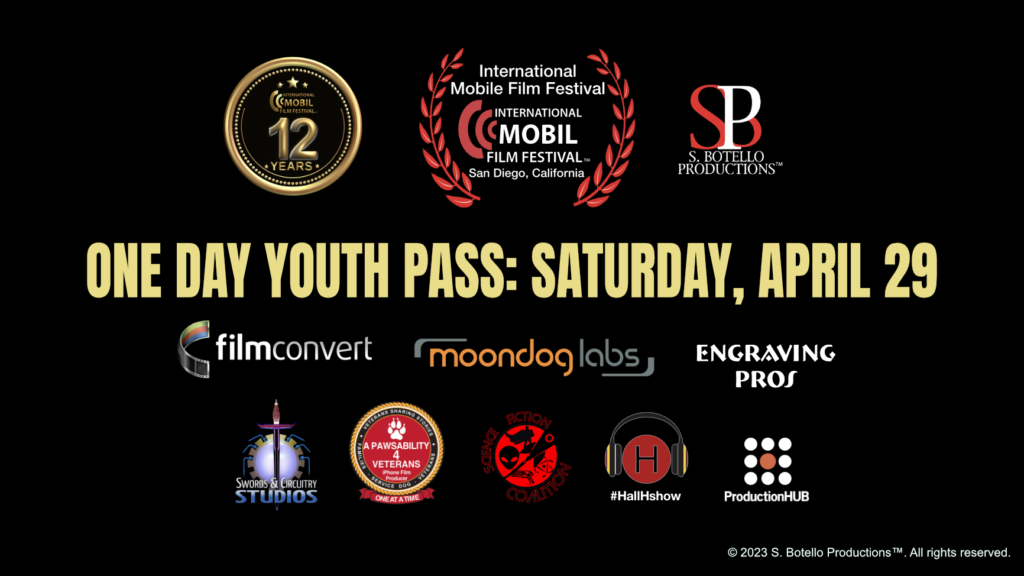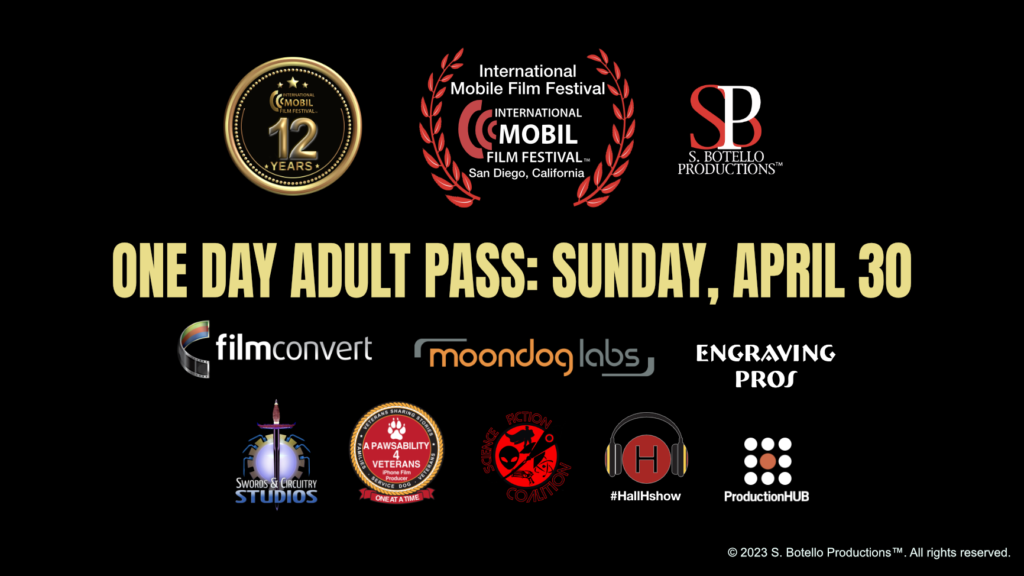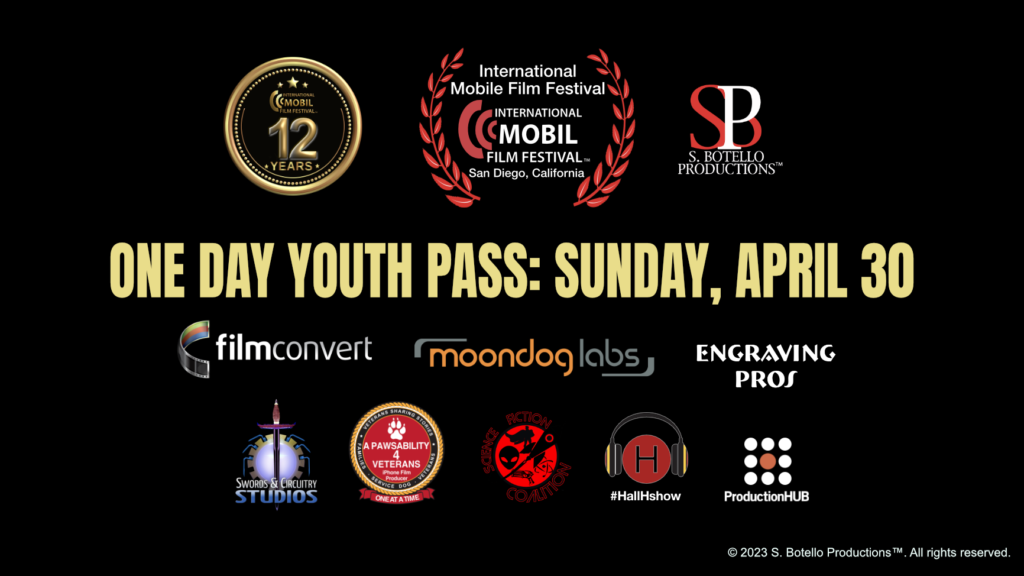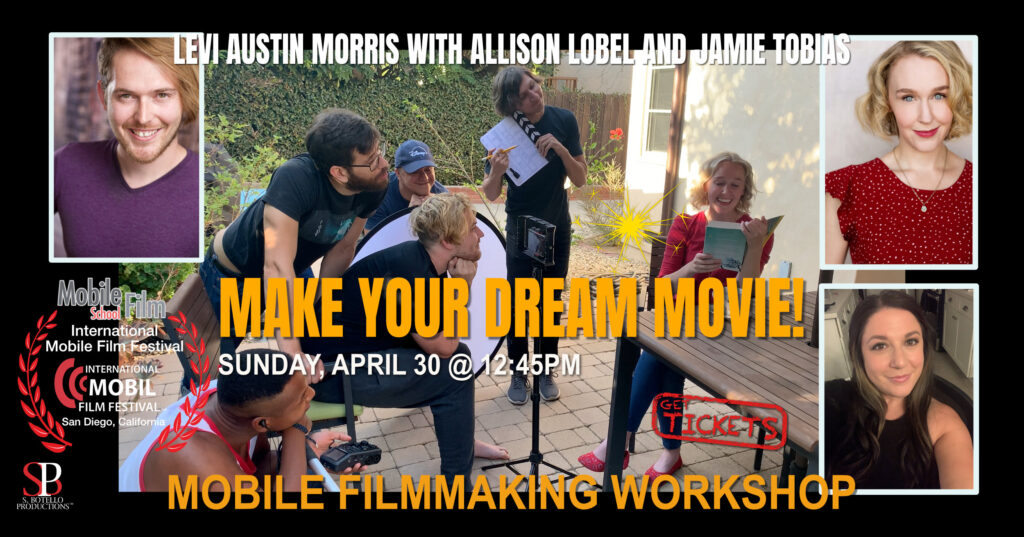 Your Sunday ticket includes a filmmaking with smartphones Workshop: Make Your Dream Movie.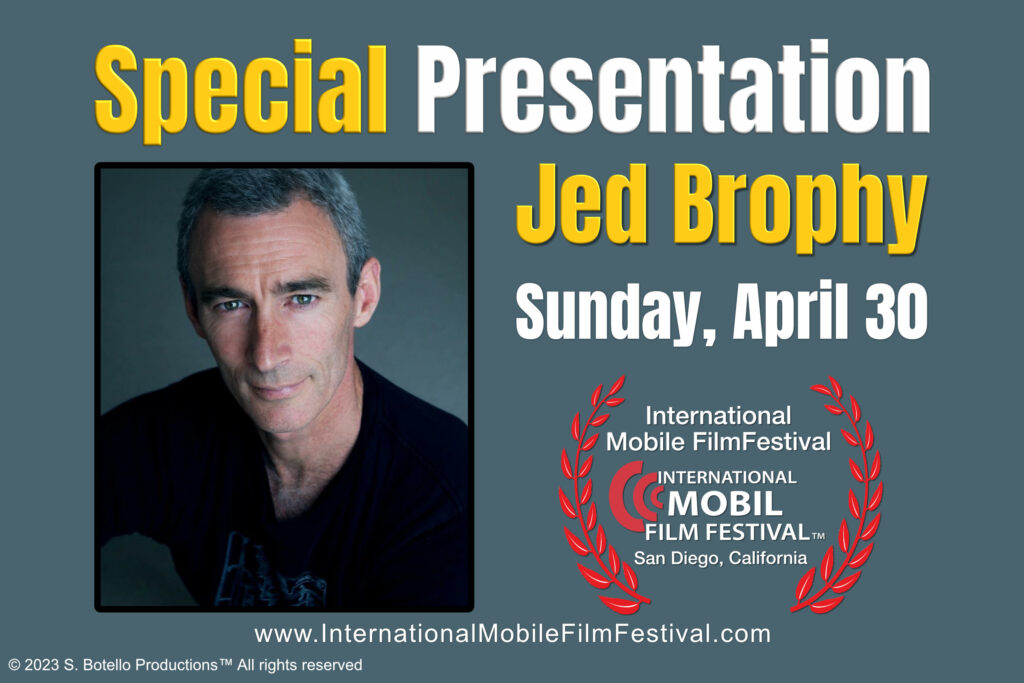 Don't miss a very special presentation by Jed Brophy in person on Sunday, April 30. Get details.
Watch our story video and learn a bit about our film festival in San Diego: the pioneer international film festival for movies shot with smartphones.
FAQ
ARE CHILDREN WELCOME?
All ages are welcome. Minors must be accompanied and supervised by an adult at all times.
WHAT IS THE BEST DEAL?
The best deal for tickets is the ticket for BOTH festival days (Saturday and Sunday). It gives attendees a discount on the cost of two days purchased separately. No discounts qualify for this option.
DO WE HAVE DISCOUNTS?
Family and close friends of the filmmakers receive discounts on tickets when they are referred by filmmakers. Subject to verification.
IS PARKING FREE?
Yes, subject to availability, parking is free at the venue.
SHOULD I WAIT TO PAY IN PERSON?
Our space is limited. You should secure your ticket ASAP! Purchasing online is highly recommended.
ARE THERE RESTAURANTS AT THE VENUE?
Our program schedule provides ample opportunities to break, connect and network. There are a number of options to grab lunch and dinner just a few steps away…and it's a beautiful short distance walking along the beautiful marina. The marina is about 40 steps from our room.
You'll find more details about the event in our MFF page.
*KickOff night is at Aquarius Bar and Grille Friday, April 28 and is RSVP. Get info in the program schedule (link above).
SPONSORS 2023:
FilmConvert | Moondog Labs | Swords & Circuitry Studios | Engraving Pros | Hall H Show Podcast | Science Fiction Coalition | ProductionHUB | A Pawsability 4 Veterans | SBP Podcast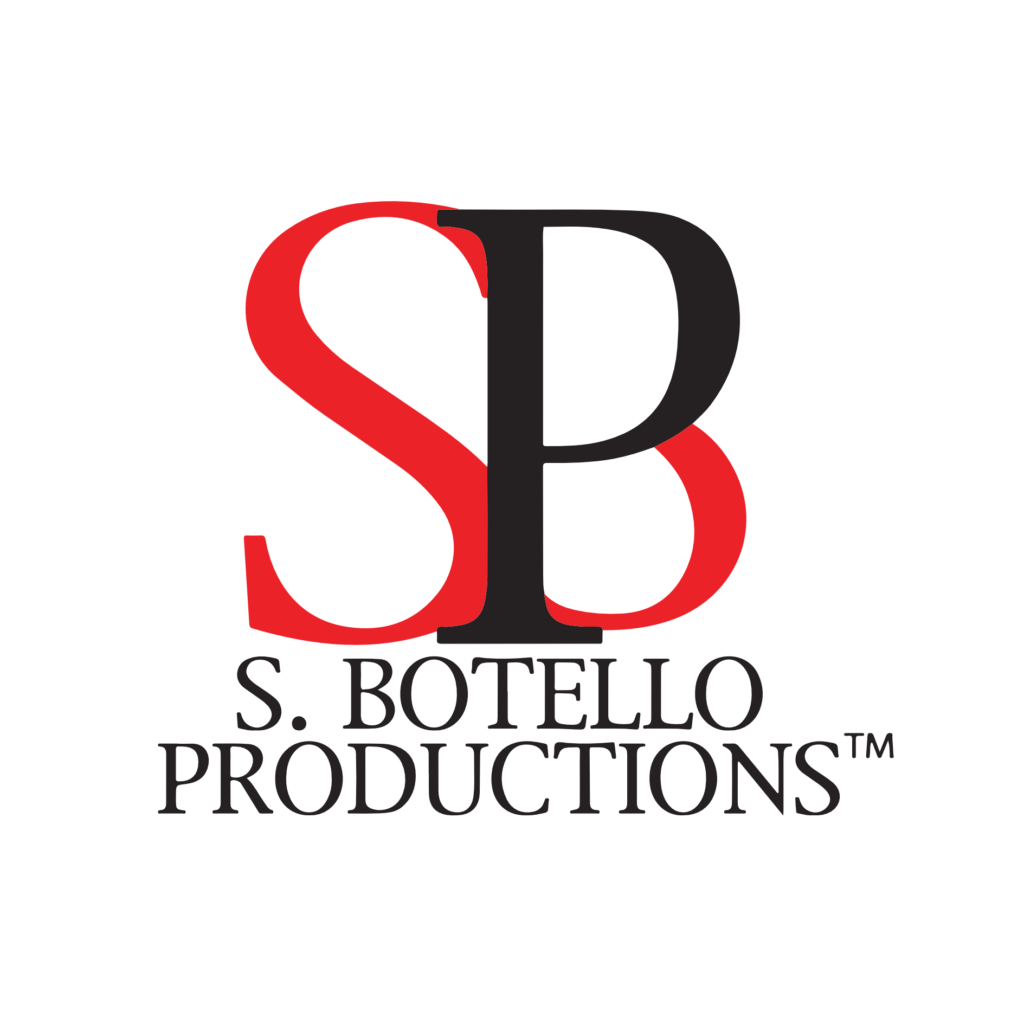 All content on this website, unless otherwise noted, is the property of S. Botello Productions™. Terms and Privacy Policy.
© 2006-2023 S. Botello Productions™. All rights reserved.